How many different audio scenarios can you find for a portable digital recorder? You could be recording a podcast, natural ambiences, or perhaps a lecture.
You may be out in the field recording rain on the roof, or crickets in the grass. Maybe you're at a live gig to capture the music. Or, your band is recording a demo, and you need the best sound quality possible.
Perhaps you're filming and want the audio to be as great as the visuals? The possibilities for recording are endless, so when choosing a portable recorder, your first consideration needs to be, "What am I going to use it for?"
This article focuses on two portable recorders, the Zoom H4n Pro and the Sony PCM-D100. It examines and compares the best and worst features of each recorder to help you answer the all-important question: Which recorder should I buy?
Inputs and Microphones
Both the Sony PCM-D100 and the Zoom H4n Pro recorders come with built-in microphones, which makes it easy to record ambiences, voices and music without the need for extra microphones and cables. That is very handy if you want to work with a minimum of equipment.
The X/Y mics make it easy to record in stereo, with the microphones angling at either 90° or 120°. Of the two recorders, the mics on the PCM-D100 are higher-quality and excellently suited to record sound effects, quiet natural ambiences, live events, acoustic instruments, and pretty much everything else.
On the other hand, Zoom's H4n Pro includes two XLR inputs, right at the bottom of the recorder. This feature makes the Pro a better fit for recording podcasts and one-to-one interviews where you need each person to speak into a separate microphone.
You could technically jerry rig a setup, and plug it into the D100's 3.5mm input, but that is far too complicated for most people's use cases.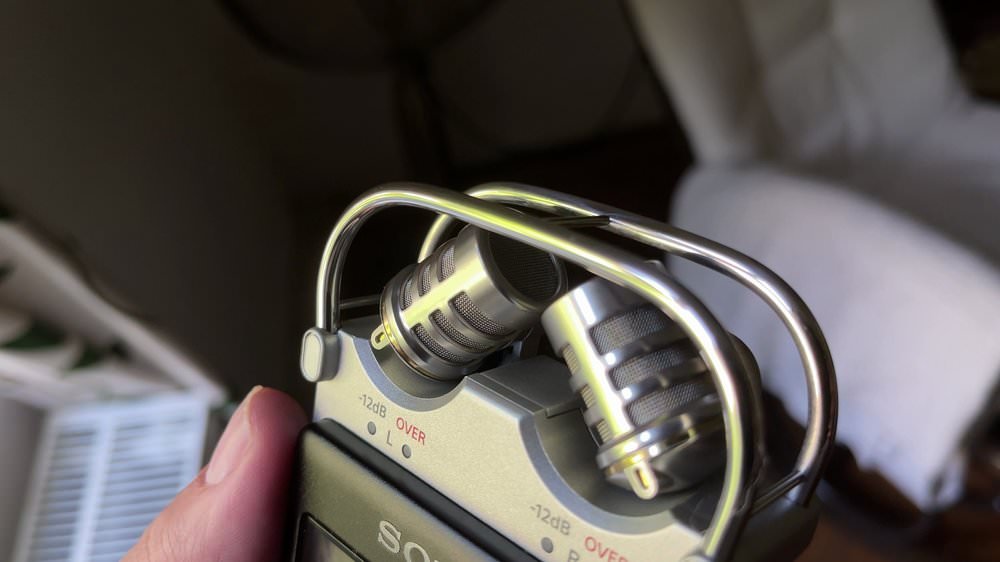 Levels
For gain control, you have to use the two buttons on the side of the H4n Pro to set or change the levels. It can be awkward to manage and personally, I prefer the small wheel on the PCM-D100. The white writing contrasts sharply with the black wheel, which allows you to see the numbers more clearly in dimly lit surroundings.
Sony has also included a latch for added protection. You lift it, set your level and then close it down, thus eliminating the possibility of accidentally changing levels.
Free Sound Effects
By the way, did you know I have compiled the largest list of free sound effects in the world? Over 500GB of sounds, ready to be downloaded, free of charge. Just figured you'd want to know. And now, back to the review.
Sound Quality
When it comes to self-noise, the H4n Pro isn't the best recorder on the market. It is perfectly fine to record louder sounds such as voice-overs, lively dialogue or sound effects, loud music etc. On the other hand, it is challenging to record quiet ambiences on the Zoom H4n Pro because there will be quite a bit of hiss when you increase the volume.
The high-quality preamps and built-in microphones of the Sony PCM-D100 make it ideal for recording a whole range of sounds with a minimum amount of fuss. Even if the sounds are quiet, you'll be able to capture them far more clearly than with the H4n Pro.
This isn't really unique to the H4n Pro, or even the Zoom H series. No handheld recorder can really match up with The Sony PCM-D100 in this regard, which is why it's so pricy to buy now that it's been discontinued.
Another important difference between the two recorders is the maximum sample rate. The Zoom H4n Pro can record at a maximum 96kHz / 24bit. The PCM-D100 on the other hand, can record to a maximum of 192kHz / 24bit.
Whilst this will be incredibly useful for sound designers and sound effects recordists, it will make no difference for people who just want to record their voice, or make non-experimental music.
The only benefit of 192kHz over 96kHz is that you'll be able to stretch and manipulate the audio far more, which is useful in niche use cases. Think of it like frames per second in video. Regular people won't need to go beyond 60 FPS, so 240 FPS won't add any value for them.
Size & Build
Portability is vital with these handheld recorders.
They are both small and light with the Zoom weighing in at only 10.6 oz (280g) while the Sony is slightly heavier at 13.9 oz or 390g.
Because you'll be carrying your recorder into many different situations, you want to be sure it can stand up to the rigour of travel bags and outdoor locations. Both the PCM-D100 and the H4n Pro deliver, being sturdy and durable. They also come with handy cases for extra protection.
The Zoom H4n Pro comes with a plastic case, which will at least protect the device from scratches and scuff marks. The PCM-D100 comes with a handy pouch, which also allows you to carry accessories at the same time.
While I would always encourage you to take great care with your recorder, it's good to know that both devices are built to last.
Battery Life
One thing that's important for me when recording is knowing that I have enough power, and that I won't run out halfway through an important recording session.
The PCM-D100 requires four AA batteries which last for up to 12 hours. Bear in mind that there are many variables which can affect the battery life of these devices.
Even the make of the batteries can make a difference. The battery case is kept in place with a sliding lock so you can guarantee that you won't accidentally kill the power during recording.
By contrast, the H4n Pro uses only two AA batteries which last up to six hours — again depending on how and what you're recording. Whichever recorder you choose, it is wise to have a stash of spare batteries in your kit. That way you're covered no matter how long your recording trip lasts.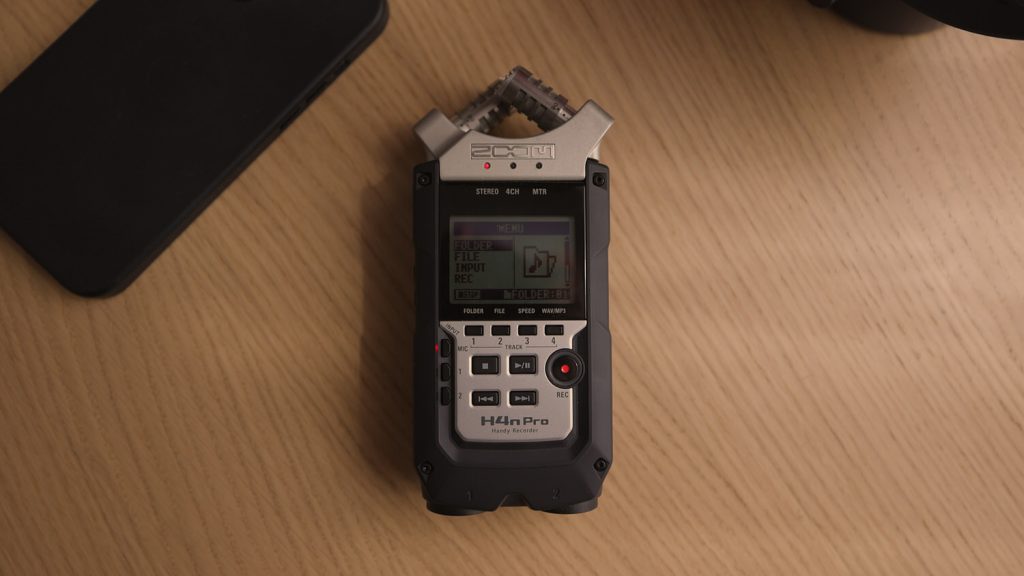 Storage
When it comes to storing your data, each recorder will accept SD cards with up to 32GB of storage, and indeed the Sony can take a 64GB card.
That's ample storage space, but the PCM-D100 goes one step further and provides internal storage as well. It works seamlessly with the SD card too so that if you run out of internal storage, it immediately begins to use the card or vice versa.
Wind Shields
It can be disappointing to listen back to hours of recording only to realise there is wind noise you weren't even aware of at the time. That is why it is essential to have wind protection for your microphones.
The Zoom H4n Pro has no wind protection provided so a windshield is something that you absolutely need to buy separately if you're going to record outdoors. I always recommend this Rycote set which includes an effective windshield, grip and shock mount.
By contrast, Sony does include a windshield in its kit, which is a bonus that sets it apart from many other recorders. The windshield is actually really good quality, and it's comparable to the Rycote one. That being said, it's still worth investing in Rycote's kit for the added shock absorption factor.
Conclusion
So, let us return to the question I asked at the start. How are you planning to use your portable recorder?
If you need a handheld, portable recorder which records high-quality audio with a minimum of fuss, then the more expensive Sony PCM-D100 will probably suit you well. This is an especially good choice if you plan on recording super quiet stuff, like natural ambiences, or ASMR.
It will record effortlessly in many scenarios, including both loud and quiet ambiences and the internal/external storage combination gives you complete confidence to know that you're unlikely to run out of storage space.
When it comes to the H4n Pro, it's fair to say that it is a lot cheaper, and can take external microphones, but doesn't have the sound quality of the Sony.
That probably makes it a better buy if you are planning on using external microphones, such as in the case of a podcast, interviews, etc.
I hope this comparison between the Sony PCM-D100 and the Zoom H4n Pro helps you to decide which is the recorder for you. With that in mind, if you are still undecided or would like to know more, I've included a link down below to more of my handheld recording device reviews.
If you'd like to have a look at any of the products mentioned in this article, or you would like to know how much they cost in your country, you can find affiliate links down below.
Thank you for reading my review of the Zoom H4n Pro vs Sony PCM-D100. I invite you to have a look at some of my other articles. We have something for everyone, whether you're interested in audio, or cameras and lenses. Alternatively, if you prefer video reviews, feel free to have a look at my YouTube channel.
Product Links
Down below you will find all of the items mentioned in this article.