Hey guys. Some of you have requested that I compare the Zoom H series devices directly to the Sony PCM-D100, so today, we'll be looking at the Zoom H5 versus the D100.
Given that both these portable devices are small enough to hold in your hand, and rich with features, which one should you buy? Let's have a closer look at both of them, and see which one is the perfect device for you.
Inputs and Microphones
The external X/Y mics on both the Sony PCM-D100 and the Zoom H5 make it easy to record with a minimum of equipment. Of the two recorders, the built-in mics on the PCM-D100 are of higher-quality. Using them in situations where it would be impractical to use lots of extra equipment will render excellent recordings.
On the other hand, the Zoom H5 does have two XLR inputs. What's more, you can also purchase capsules for it, which give you far more options, including one which gives you two extra inputs.
So, if you're recording podcasts or need to plug in a boom or shotgun mic, then the H5 would be a more practical choice.
The most useful feature of the H5 is its modularity. You can simply remove the X/Y capsule and replace it with several different types of microphones as easily as changing the lenses on a DSLR.
As a quick side note, the EXH-6 capsule, which provides you with the extra inputs, can not provide phantom power to the microphones connected to it. As a result, if you want to connect condenser microphones to it, they will not work.
As a second point, you can technically jerryrig a setup where you can connect XLR mics to the Sony PCM-D100. The question is though, if you have to do that, is the PCM-D100 really the device you're looking for?
Affordability
Speaking of whether the PCM-D100 is for you, there is something I need to address. It would seem that Sony has discontinued production of it, which means that finding it can be pretty tricky.
Even if you do find some on eBay, chances are they'll be really pricey. As an alternative, you might want to have a look at its predecessor, the Sony PCM-D50.
I've ordered one recently, and I will review it on this channel as soon as it arrives, so if you want to see that, make sure you subscribe. If you want to check out the prices for either the Sony PCM-D100 or PCM-D50, you can do so here.
Levels
When it comes to audio levels, they are both easily adjusted on both of these recorders.
Dials on the H5 control the sound from the X/Y microphones and anything plugged into the inputs. On the right-hand side of the PCM-D100, a small wheel controls the built-in X/Y mics.
What's more, both recorders protect their controls from accidental bumps. The Zoom H5 does it with a metal bar that stretches over the dials, whilst the PCM-D100 does it with a small latch that gives over the wheel.
That way, you can be confident the sound levels will stay the way you set them.
Free Sound Effects
By the way, did you know I have compiled the largest list of free sound effects in the world? Over 500GB of sounds, ready to be downloaded, free of charge. Just figured you'd want to know. And now, back to the review.
Audio Quality
When it comes to audio quality, one of the comments you'll hear most often about Sony's PCM-D100 is how terrific it is for recording quiet sound sources.
Its quality preamps and exceptional microphones make it one of the best for recording outdoor ambiences. If what you're recording is really really quiet, and you need to boost the signal, you're not so likely to experience as much hiss as when recording with the H5, for example.
It has to be said that while the Zoom H5 has quality preamps and audio, it can't match the Sony when it comes to recording outdoor ambiences.
When recording louder things though, such as sound effects, musical instruments, live performances, etc. the H5 does a fantastic job.
Many will argue that the PCM-D100 still sounds better, but given that the PCM-D100 can cost 3 times as much as the H5 at the time of writing this, I'm not sure that the D100 sounds THREE times better.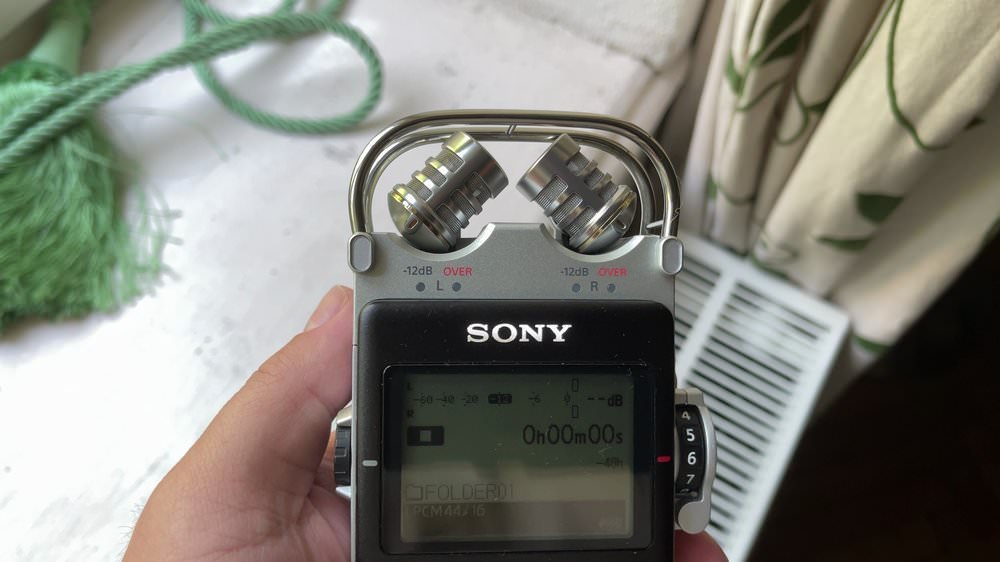 Size, Build & Portability
These digital recorders are both small and light with the Zoom weighing in at only 9.52 oz, or 269g, while the Sony is slightly heavier at 13.9 oz, or 390g.
They are each sturdy and durable, therefore built to last. I would always advocate care in handling your recording equipment, but these recorders can take a few knocks. Pop them into their handy, protective carry-cases, and you're good to go.
When you need to record something, it's easy to take either device out and just press record.
Battery Life
One thing you don't want to do is run out of battery power when you're recording, especially when it's a once-only opportunity.
So, the PCD-D100 gives you up to 12 hours of recording time with its four AA batteries. That time does depend on multiple factors, including whether you have an external microphone attached to it, and even the brand of batteries you are using.
That being said, when it comes to battery life, it's hard to beat the Zoom H5. It uses only two AA batteries which give you a maximum 15 hours of recording life — again depending on how you are recording.
Whichever recorder you choose, it is not hard to carry a bag of spare AA batteries in your kit. That way, you can be sure you won't be caught out.
Storage
The Sony PCM-D100 has ample storage for your recordings, having internal and external options which work seamlessly together.
If you run out of internal storage, the recorder will automatically switch to the SD card — up to 64GB in size. It is a handy feature that could save you much anxiety over time.
Zoom recorders don't have an internal storage feature, so all recording is done onto SD cards. These can range up to 32GB in size, which while not as large as the Sony, still delivers decent storage capacity.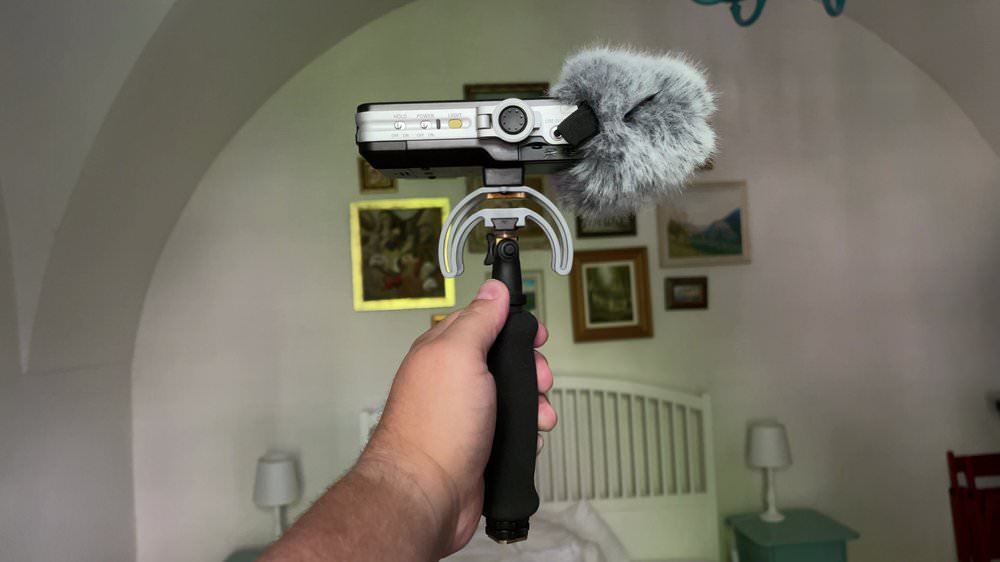 Wind Shields
If you have to record outside at all, then the foam windshield that comes with the Zoom H5 will probably prove to be inadequate. It can work indoors, but any gust of wind outside could ruin the quality of your recording. For this reason, I always recommend this Rycote set which includes an effective windshield, grip and shock mount.
On the other hand, Sony does include a decent windshield in its kit. That being said, it's still worth investing a little extra and buying the Rycote kit for the grip and shock mount.
Even though the Sony windshield is really good, the Rycote shock mount will prevent handling noise when holding the recorder, and vibrations when placed on a stand.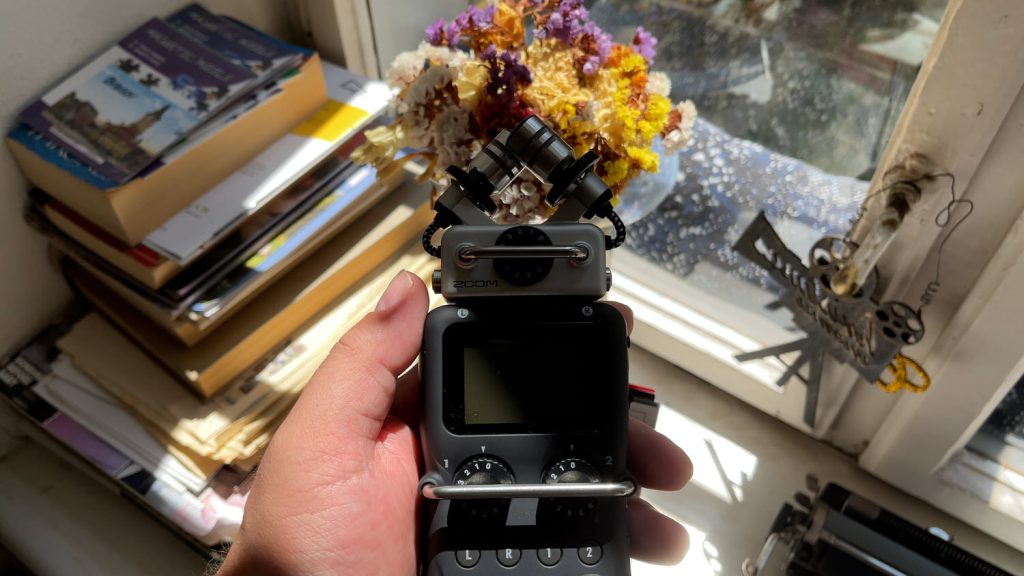 Conclusion
Now it's time to get an overview of these two devices.
The price is obviously a significant factor, and of the two recorders featured in this video, the Sony PCM-D100 is undoubtedly the more expensive option.
The other big question to answer has to be "what do I want to record?" Both the H5 and the PCM-D100 are quality machines, but they play to different strengths and situations.
The H5 is modular and has external inputs. That makes it very versatile when it comes to microphone options. If you want to record podcasts, one-to-many interviews and discussions, or louder outside ambiences, then the Zoom H5 is a good investment.
However, if you want excellent audio quality and fuss-free recordings in situations such as concert venues, or you need to record quiet outdoor sounds, then the Sony PCM-D100 would be the better choice.
I hope this comparison video between the Sony PCM-D100 and the Zoom H5 helps you to decide which recorder will suit your needs and your pocket.
If you'd like to purchase any of the items I've mentioned in this article, or see how much they cost in your country, I have a link down below where you can view them.
Thank you for reading my review of the Sony PCM-D100 and the Zoom H5. I invite you to have a look at some of my other articles. We have something for everyone, whether you're interested in audio, or cameras and lenses. Alternatively, if you prefer video reviews, feel free to have a look at my YouTube channel.
Product Links
Down below you will find all of the items I talked about in this article.