Which Camera Is Better? In this review, we'll take a look at two Canon cameras: the Canon EOS 77D (also known as the 9000D) and the Canon EOS R. I'll highlight what these cameras can do well, but we'll also cover some of the issues that both cameras have so that you can make an informed decision.
Size & Build
Let's start by looking at the portability of these two cameras.
The Canon EOS 77D measures 131 x 99.9 x 76.2mm or 5.16 x 3.93 x 3″ and weighs around 540 grams or 19.05oz. Meanwhile, the Canon EOS R measures 131.8 x 98.3 x 84.4mm or 5.35 x 3.87 x 3.32″ and weighs around 660 grams or 23.28oz.
As you can see, both cameras are similar in physical size, making them portable and low profile. However, this can vary depending on the lenses you choose to use. I've reviewed several lenses on my channel. You can find the links down below or click the card in the top right corner.
Regarding build quality, the Canon EOS R is made out of a magnesium alloy and has a better build quality than the Canon EOS 77D, made out of aluminium alloy and polycarbonate resin.
So, we've established that they are portable and have an attractive design. The next question is, can they capture good photos?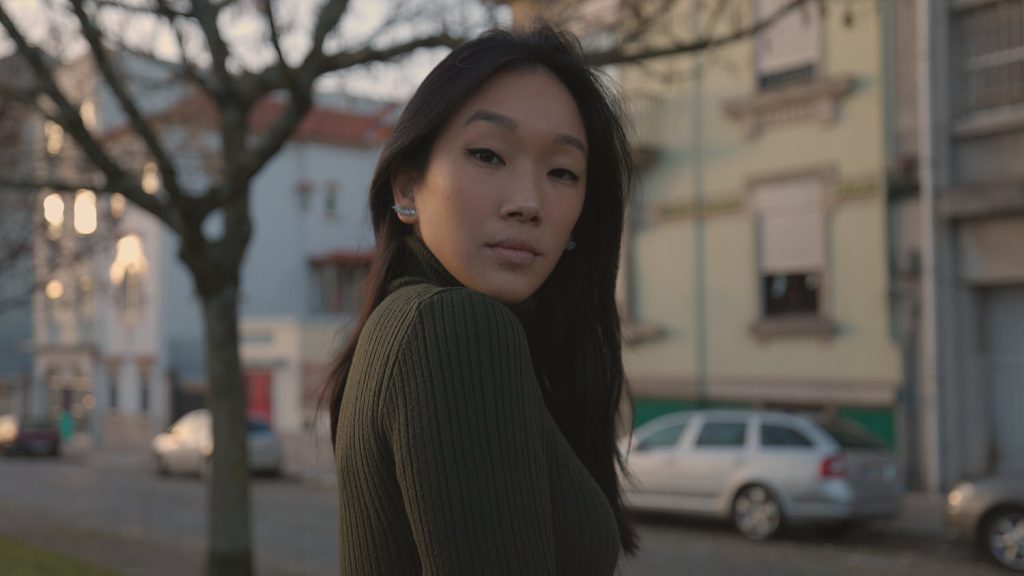 Image Quality
So, which camera is better when it comes to image quality? It's essential to note that the lens you choose will significantly impact the resulting images. However, let's focus on the camera's contribution since I don't know which lens you'll be using.
Sensors
First, let's talk about the sensors. The Canon EOS 77D features a 24.2 MP 22.3 x 14.9mm APS-C sensor, while the Canon EOS R features a 30.3 MP 36 x 24mm Full Frame CMOS sensor.
Processor
As for the processor, the 77D features the DIGIC 7, while the Canon R features the DIGIC 8.
You might be wondering what improvements the DIGIC 7 and 8 processors introduced to Canon cameras. Let's take a look.
The 7th generation DIGIC processor line introduced several improvements, including substantially improved image processing power, much faster autofocus speeds, reduced noise in images, and improved subject detection.
As for the 8th generation DIGIC processors, they implemented several enhancements, such as 4K @ 30fps, enhanced Dual Pixel AF, improved autofocus, and better tracking performance.
ISO
Regarding ISO, the Canon EOS 77D can do 100 to 25,600, expandable to 51,200, while the Canon EOS R can shoot from 100 to 40,000, expandable to 102,400. Keeping ISO on the lower end is generally best, in order to avoid introducing unwanted noise in your photos.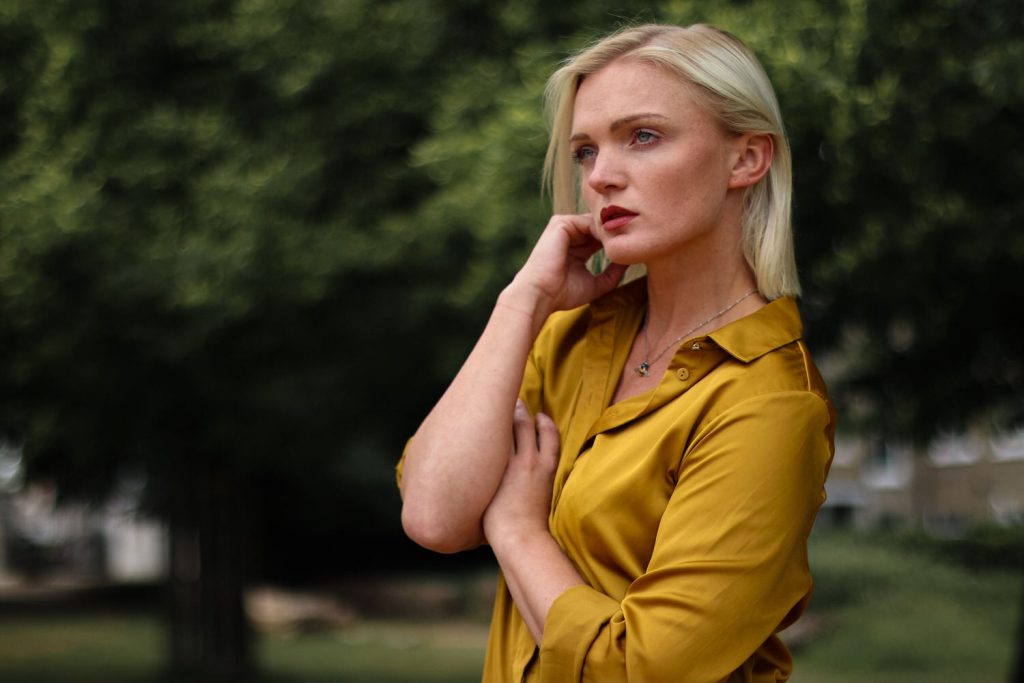 Autofocus
Now, let's talk about autofocus. The Canon 77D offers up to 45 AF points, while the EOS R has a much higher number of AF points at 5655.
Both cameras have Dual Pixel AF, which significantly increases the camera's autofocus capabilities. With the presence of Dual Pixel AF and a higher number of AF points, the autofocus is better, which can come in handy in certain situations.
Shutter Speed
If you're looking to capture fast-moving subjects, shutter speed is crucial. The 77D has a maximum shutter speed of 1/4000th of a second, while the EOS R can do 1/8000th.
But what if you want to capture multiple frames quickly to get the perfect shot of a fast-moving subject, such as in sports or wildlife photography? This is where continuous shooting mode comes in. The Canon EOS 77D can shoot at 6 fps, while the Canon EOS R can shoot at 8 fps. In other words, the 77D captures 6 photos within one second, while the R captures 8.
Video
Now, let's take a look at how the 77D and the EOS R perform in terms of video.
The EOS 77D can shoot 1080p at 60fps, while the EOS R can shoot 4K at 30fps and 1080p at 60fps. Additionally, the Canon EOS R has Canon Log, which helps you get more dynamic range out of your camera.
Does either of these cameras have built-in optical image stabilization? No, neither camera has IBIS. While most cameras offer digital stabilization, as a general rule, it's best to avoid using it. The in-body digital IS is rarely great and gets baked into the video, so you won't get a backup of the video without it.
It's generally not worth using in-camera digital stabilization. It's best to film something shaky and stabilise it in Premiere or whatever software you use, especially since this technology is continually improving.
If you want optical stabilization, you can opt for a lens like the Canon EF-S 18-55mm kit lens, but make sure it has IS in the name. This lens will provide in-lens stabilization, which is always better than in-camera digital stabilization.
Also, as a quick side note, this lens is not compatible with both of these cameras. Stay tuned to find out why.
Before we continue, I've reviewed numerous lenses on my YouTube channel. You can find them here.
Vlogging
Can you use either of these cameras for vlogging? Which camera is better for that?
While pretty much any camera can be used for vlogging, there are a few things to consider. Firstly, having a flip screen is ideal, so you can see what you're doing when the camera is turned around.
Luckily, both the Canon EOS 77D and the Canon EOS R have flip screens. This feature makes vlogging much more manageable and protects the actual screen glass when the camera is in your bag.
Another aspect to consider is the type of sensor. The 77D has a cropped APS-C sensor, while the EOS R has a Full Frame sensor. A cropped sensor produces a more zoomed-in image compared to Full Frame sensors.
In the case of the 77D, you should stick to lenses with shorter focal lengths. This is because once you factor in the camera's crop factor, many lenses may be too zoomed in for handheld vlogging.
The 18-55mm kit lens would be suitable for handheld vlogging as you can zoom it all the way out and get more in the frame. Buying the version with IS will produce smoother video, which is desirable in most situations.
You can also use the Canon 24mm pancake lens, which is wide enough but does not have any IS. As a result, the footage will be shakier.
YouTubers
If you plan on creating content where you can place the camera on a tripod, the recommended lenses change significantly.
For this purpose, the Canon EF 50mm f/1.4 or f/1.8 would be better choices than the 18-55mm or 24mm lenses. These two lenses can open up much wider, allowing more light in and producing beautiful bokeh, that pleasingly blurry background effect.
However, these lenses are not suitable for handheld vlogging, as they're far too zoomed in and have no IS.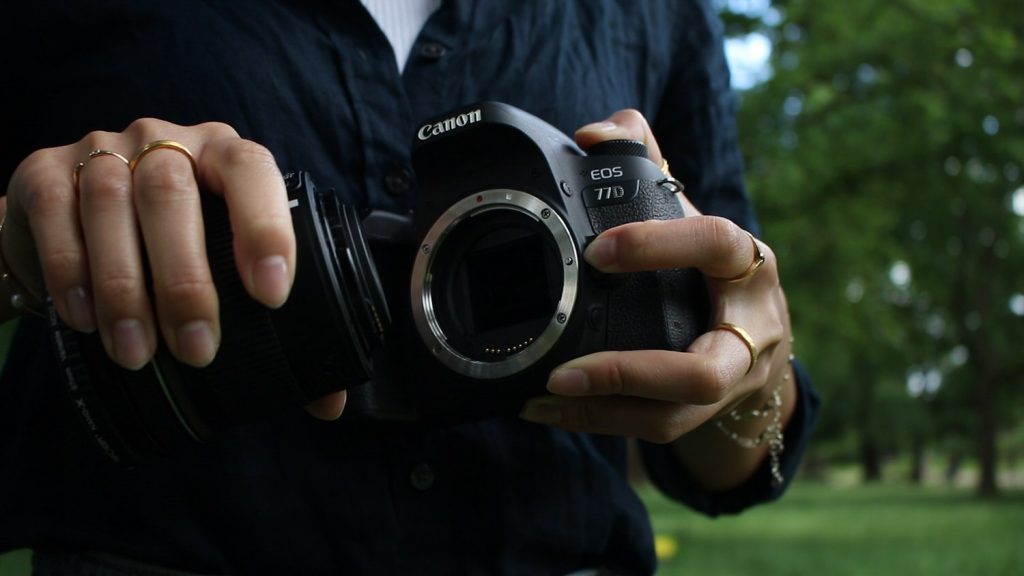 Compatible Lenses
Ok, so which lenses are compatible with these two cameras?
The Canon EOS R is compatible with Canon's new RF lenses, such as the RF 15-35mm f/2.8 or the RF 85mm f/1.2. However, you can also mount EF or EF-S lenses on this camera using an adaptor, which you can find the link to below.
On the other hand, the 77D is compatible with Canon's EF and EF-S lenses, such as the EF 50mm f/1.4, EF 50mm f/1.8, and even the EF-S 18-55mm kit lens.
Display
Regarding displays, both the Canon EOS 77D and the EOS R have decent-quality flippable screens on the back. These screens are sufficient for navigating menus and checking photos, but they can also be used for vlogging or turned around to protect the screen while in your bag.
Both cameras also have a small LCD at the top, providing quick and easy access to your settings. While not everyone likes this LCD look, I think it looks cool.
Storage
What about storage? Does either of these cameras have a dual SD card slot?
Neither the Canon EOS 77D nor the EOS R has a dual SD card slot. This is a high-end feature typically found in professional-grade cameras rather than entry-level or mid-level cameras. Dual SD card slots allow you to get backups of your photos in real time, as the cameras can save each photo on both cards simultaneously.
For pro gigs, having a second SD card can provide an extra level of backup in case of an SD card failure.
SD card failures are not common, especially if you have multiple SD cards that you cycle through over time. However, it is theoretically possible, which is why dual SD card slots provide extra backup.
That said, you can also use both SD cards separately, effectively doubling your storage capacity, and bypassing the backup feature.
Connectivity
Both the Canon EOS 77D and the EOS R have Wi-Fi connectivity. They also have Bluetooth connectivity. However, only the Canon EOS 77D has NFC, while the Canon EOS R does not.
Battery Life
Which cameras is better in terms of battery life? The EOS 77D has an LP-E17 battery that can provide approximately 600 shots. In comparison, the EOS R has an LP-E6N battery that can provide approximately 370 photos.
Various factors can affect the battery life of both cameras, such as screen usage, age of the battery, and air temperature. To be safe, carrying spare batteries with you is a good idea, especially if other people are involved in the shoot.
Applications
Ok, so what are these cameras designed for?
Either of these cameras can be used for portrait photography, street photography, product photography, landscapes, weddings, and events.
For these types of photography, the lens you choose is more critical than the camera itself.
However, the situation becomes more complex if you want to capture sports and wildlife or shoot more documentary-style photos. While your choice of lens is still important, there are other factors to consider.
If you're into sports and wildlife photography, a fast shutter speed and a high number of frames per second in continuous mode are desirable.
For documentary-style photography, either camera can work well for photos. However, video shooting requires more consideration. To learn more about the video capabilities of these cameras, please refer to the video section of the review.
I've included chapters in this video, for your convenience.
Longevity
If you're wondering about the overall lifespan of these cameras, I can tell you that they are built to last. However, it's worth noting that the R has water and dust resistance, while the 77D has no weather sealing. As a result, if you own the 77D, you should be careful with it and avoid exposing it to the elements too much.
Actuations
When it comes to actuations, the 77D is rated for 100,000, while the R can handle around 200,000. This is because of the mechanical nature of cameras, which are rated for a certain number of photos before the shutter theoretically fails.
Every time you take a photo, the camera goes click, and that's another actuation. If we do some quick math, a camera with 100,000 actuations, assuming an average rate of 10 photos per day, should last you for about 27 years. Conversely, a camera with 200,000 actuations, at the same rate of 10 photos per day, should last for nearly 54 years.
It's worth noting that other components of the camera are likely to fail before the shutter reaches its actuation limit. Additionally, if you're buying these cameras second-hand, the math might need to be adjusted slightly. When you purchase a camera, double-check the listing to see how many photos it has already taken.
Recommendations
I hope this has been helpful. I invite you to have a look at some of my other articles. We have something for everyone, whether you're interested in audio, or cameras and lenses. Alternatively, if you prefer video reviews, feel free to have a look at my YouTube channel.
Finally, down below you will find all of the items I talked about in this article.