Perhaps you're thinking of buying your first recorder, and everyone has recommended the Zoom H4n Pro to you. Maybe you're thinking about starting a podcast, or you want to start recording sound effects, and you're wondering what recorder you should buy in order to get started.
No matter what the case may be, in this article we're going to talk about the Zoom H4n Pro. I'm going to go over what it can, and can't do, and who should buy it.
Inputs
The Zoom H4n Pro has two XLR inputs, and a 3.5mm stereo mini-jack input. Simply put, the XLR inputs are for larger microphones, such as the ones you'd use on a podcast, or shotgun mics, which are used to record dialogue in film, or sound effects. An example of a podcast microphone would be the Shure SM7B, and an example of a shotgun microphone would be the Rode NTG-2.
The 3.5mm stereo mini-jack input accepts TS, or TRS plugs. Using a TS plug will give you a mono sound, which is only one track, and which will be present on the left-hand side. If you connect a TRS plug to it, the Zoom H4n Pro will record a stereo signal.
This is useful if you need to plug in a lavalier mic, in order to record dialogue. On the Zoom H4n Pro, the 3.5mm input is built into the recorder, and it can be found on the back, towards the top.
Bear in mind that your lav mic might require 2.5V plug-in power, which the H4n Pro can provide. This can be done by going into Menu, Input, Plug-in Power, and then selecting On. The same applies to Phantom Power, if you're using a condenser microphone which needs it.
If you have a smartphone lavalier microphone, chances are it has a TRRS plug, which will not work with this recorder.
In case you plan on doing journalism, or recording one on one interviews, which would only require a maximum of two external microphones, the two XLR inputs on the Zoom H4n Pro will suffice.
If you plan on recording a podcast, bear in mind the two microphone limitation. If you need more inputs, you might want to have a look at the Zoom H6 video above.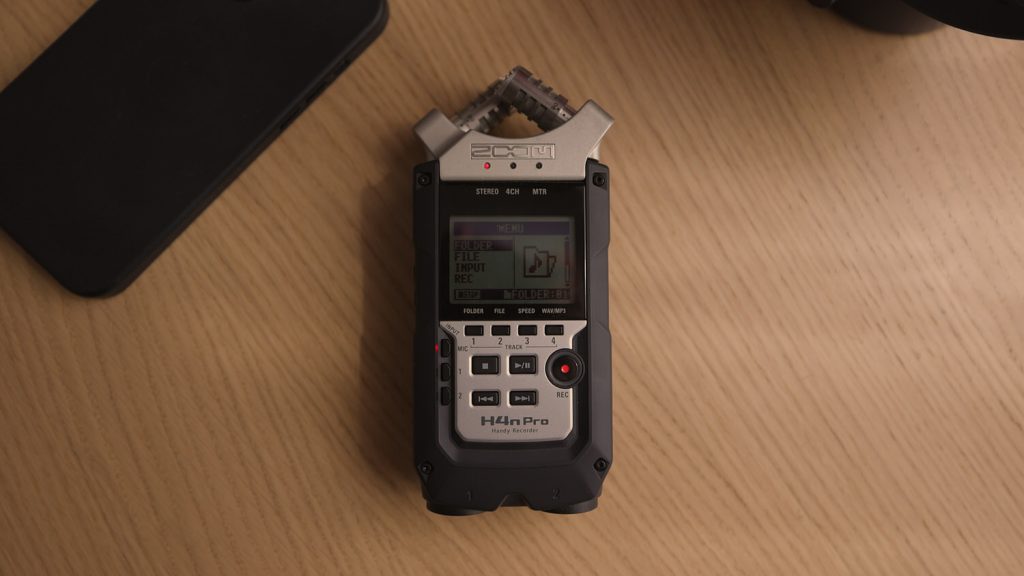 Battery Life
According to Zoom, the H4n Pro should be able to run for about 6 hours. From my experience, and the experience of others, the H4n Pro eats through batteries, so you might want to pack spares if you'll be out recording for more than few hours.
Bear in mind that your mileage may vary, as certain variables, such as whether you're using Phantom Power, can affect how long the recorder can go for.
Size & Build
Even though the Zoom H4n Pro is relatively light, coming in at just about 280g, much like its brothers, the Zoom H5 and H6, it feels sturdy in the hand, and it looks rather rugged. As I've said in the past, you should always treat your equipment with care, but I personally wouldn't be too worried about roughing this recorder up a bit.
Portability
The Zoom H4n Pro is really portable, and it comes with a very useful plastic case for it. The case does not have any cushioning, and it does not look like it could protect the recorder from water damage, but it should protect it from getting scuff marks or scratches whilst in your bag.
Display
When it comes to the displays, the H4n Pro has a 1.9 inch backlit LCD. This is of course fantastic if you're recording in low light, as you won't have to strain your eyes in order to see what's going on with your levels.
If you're mounting the recorder on top of a DSLR camera, the position of the screen isn't great, as you can't really see what's happening, but if you're looking down at the recorder, then it will be just fine.
Free Sound Effects
By the way, did you know I have compiled the largest list of free sound effects in the world? Over 500GB of sounds, ready to be downloaded, free of charge. Just figured you'd want to know. And now, back to the review.
Sound Quality
In regards to self noise, it isn't the greatest device out there. What do I mean by that?
Well, if you're going to record voice overs, loud dialogue, loud sound effects, loud music, etc. then it will be fine. On the other hand, if you want to record very quiet ambiences, you're going to have a difficult time, as there will be quite a bit of hiss when you increase the volume later on.
If quieter ambiences are what you are looking for, I'd recommend some of the other Zoom H series devices, or the Sony PCM-D100. You can read my review of the Sony PCM-D100 here.
If we're talking specs, the Zoom H4n Pro can do four-track simultaneous recording, and it can record at up to 24bit/96kHz. If you need to record a voice over, or dialogue, all you need is 24bit/48kHz, but if you want to record sound effects, being able to do so at 96kHz would allow you more flexibility during post production.
Storage
Whilst the Zoom H4n Pro does not offer any built-in storage, it can record directly to SD and SDHC cards up to 32GB in size. Even if you're recording at 96kHz, that's a lot of space for your recordings. If you're recording a stereo track, at 24bit/48kHz, 32GB should in theory allow you to record about 2000 minutes, or 33 hours.
Most SD cards SHOULD work, though here is an official list of cards that work with the Zoom H4n Pro officially.
Speaking of SD cards, I have read reports that apparently the start up time of the H4n Pro can increase if you're using a larger SD card. In fact, it took mine nearly a minute to start up with a 32GB SD card, so bear that in mind.
Most people seem to recommend that you use a smaller card if possible, in order to cut down on the start up time. That being said, formatting the SD card inside the H4n Pro does seem to cut down the start up time significantly. This does not seem to be an issue with the H5 or H6 models.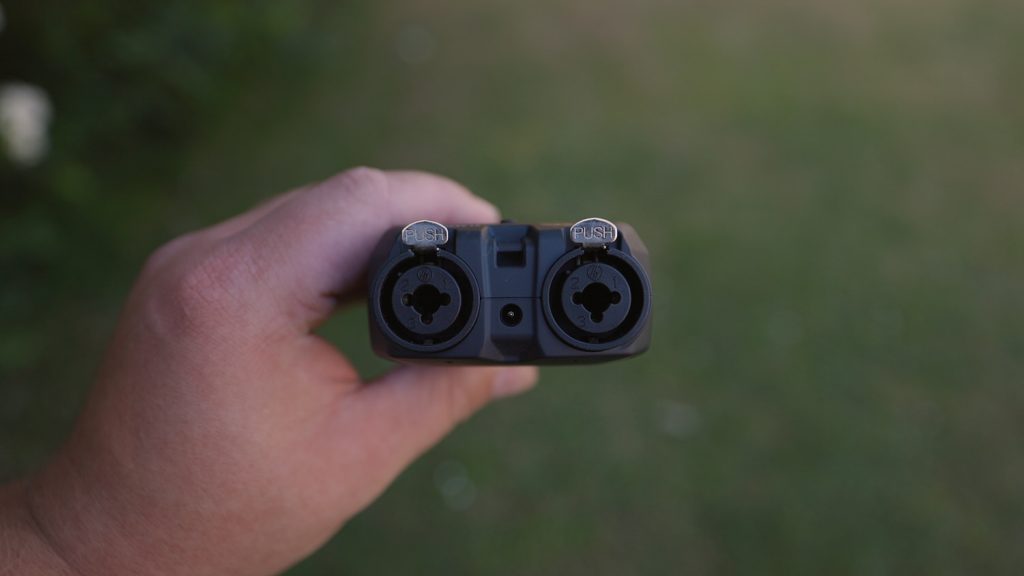 Versatility
Not only can the H4n Pro be used as a field recorder, but you can also use it as an audio interface for your computer. All you need to do is connect it to your computer or laptop via a USB cable, and set it up.
Wind Protection
If you have to record outdoors, which might be the case if you're a journalist, field recordist, sound effects recordist, if you're recording a live band, or more, you are going to need wind protection. When outdoors, any real gust of wind will make the recording unusable. Luckily, Rycote sells a three-in-one solution for the Zoom H4n Pro.
A grip, by which you can hold the recorder, a shock mount which basically eliminates handling noise, and a good quality windshield, which will protect the microphone from wind, though very strong winds might still affect the microphone.
Levels
In terms of gain control, you have to use the two switches on the side of the device. A dial would be much better, but then again, the H4n Pro is a budget device.
Conclusion
So, should you buy it? The Zoom H4n Pro is rugged, affordable, and versatile, with great sound quality and dual XLR inputs. If that's all you need, the H4n Pro would be a great investment.
That being said, if you think you might one day need to plug in a few extra microphones, it's worth spending a little bit of extra money and getting the Zoom H6.
Thank you very much for reading my review of the Zoom H4n Pro. I invite you to have a look at some of my other articles. We have something for everyone, whether you're interested in audio, or cameras and lenses. Alternatively, if you prefer video reviews, feel free to have a look at my YouTube channel.
Product Links
Down below you will find all of the items I talked about in this article.