For some time now you've been looking at digital recorders and wondering what to buy. Perhaps you want to start a podcast, record some live music, or capture sounds outdoors. You might have several interviews to record or want to monitor rehearsals for your band.
Whatever the reason, you've discovered Zoom portable recorders, and now you're asking which model is best for you?
In this article, we are going to explore the features of three Zoom recorders: the budget-priced H4n Pro, the step-up H5 model and the shiny Zoom H6. We'll look at what they can and can't do to help you decide which is the right recorder for you.
Size and Build
All three Zoom recorders are sufficiently small and lightweight to make them supremely portable. Their sturdy, rugged look gives you the confidence to take them outside knowing they won't easily break. Having said that, I would always advise you to be careful and cautious about the way you handle your equipment.
The Zoom H6 is somewhat heavier with larger dimensions than its smaller cousins, but this reflects the additional features that come with it. The rubberised plastic casing also helps diminish handling noise when you hold the recorder.
Each Zoom model comes with a plastic carry case to help guard against damage in your bag or out in the environment.
Bear in mind that the H4n Pro has a standard, plastic case whereas the Zoom H5' and H6 cases are cushioned for extra protection.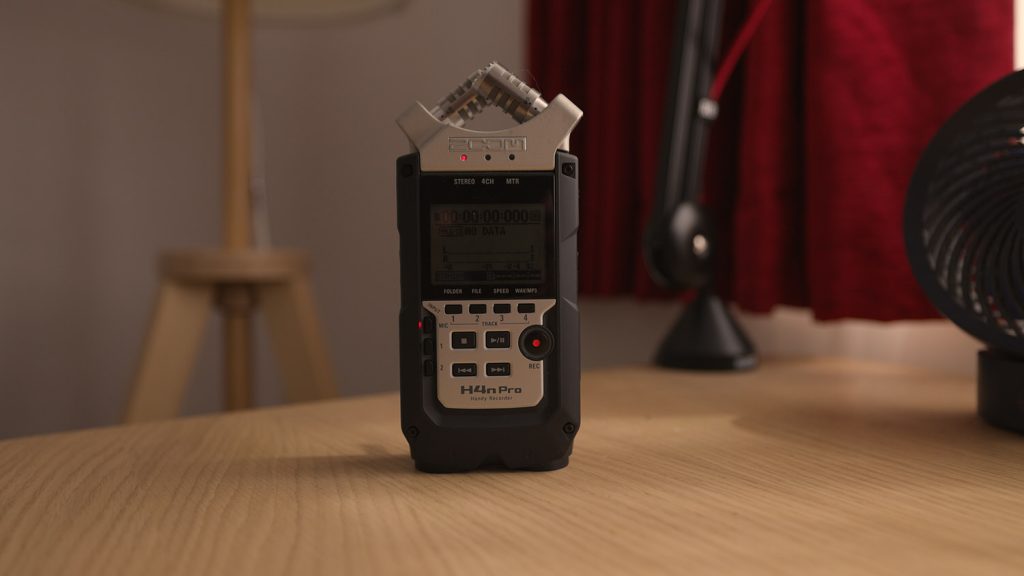 Versatile Inputs
The Zoom H6 comes with four versatile XLR/TRS inputs to plug in microphones, booms, radio mics and more.
A real bonus of the H6 model comes when you buy the clip-on capsule which immediately supplies two extra inputs. This feature is handy if you need to record a podcast with five or six guests in the studio because all you need to do is plug a microphone into each XLR input, and away you go.
That being said, please bear in mind that the recorder can not supply phantom power to the additional two inputs. This is fine if you're using dynamic microphones, but it will be an issue if you're using cardioids. If you're not sure which one your microphone is, all you have to do is look up its specs.
It's also handy if you want to record your band live or perhaps create a demo. Plug in your instruments and microphones, and you're good to go.
This clip-on capsule is also compatible with the Zoom H5, increasing its capacity to four XLR inputs. Simply put, you can still record band demos, podcasts and more with the H5 but with fewer mics and instruments.
Lastly, the H4n Pro is not modular, so you can't add extra inputs. It comes with two XLR/TRS inputs located at the bottom plus, of course, the X/Y microphones at the top. That certainly limits the number of microphones you can plug in at any one time, but you may not need more than two for your particular recording purposes.
Free Sound Effects
By the way, did you know I have compiled the largest list of free sound effects in the world? Over 500GB of sounds, ready to be downloaded, free of charge. Just figured you'd want to know. And now, back to the review.
Sound Quality
All three Zoom portable recorders can do four-track simultaneous recording and can record up to 24bit/96kHz, which is far more than what 99% of people need.
In terms of audio quality, all three recorders are basically the same. It's important to note that the H4n Pro should not be confused with the old H4, which had noisier preamps.
By the way, if you're recording outside, wind noise can be a real problem. As a result, I'd recommend that you invest in a Rycote kit which includes a highly protective windshield as well as a shock mount and grip. I've embedded these products down below.
Levels
The number and position of the level controls vary between recorders. With its four inputs, the Zoom H6 requires four controls and these dials are handily located on the front near the top of the unit. Likewise, the H5 has two dials in the same position, with the addition of a protective metal bar which runs over them. That prevents you from accidentally touching or changing your carefully-set audio levels.
On the H4n Pro, the gain controls are quite different as they are switches on each side of the recorder rather than dials on top. Personally, I find the dials more responsive and easier to work with than the switches.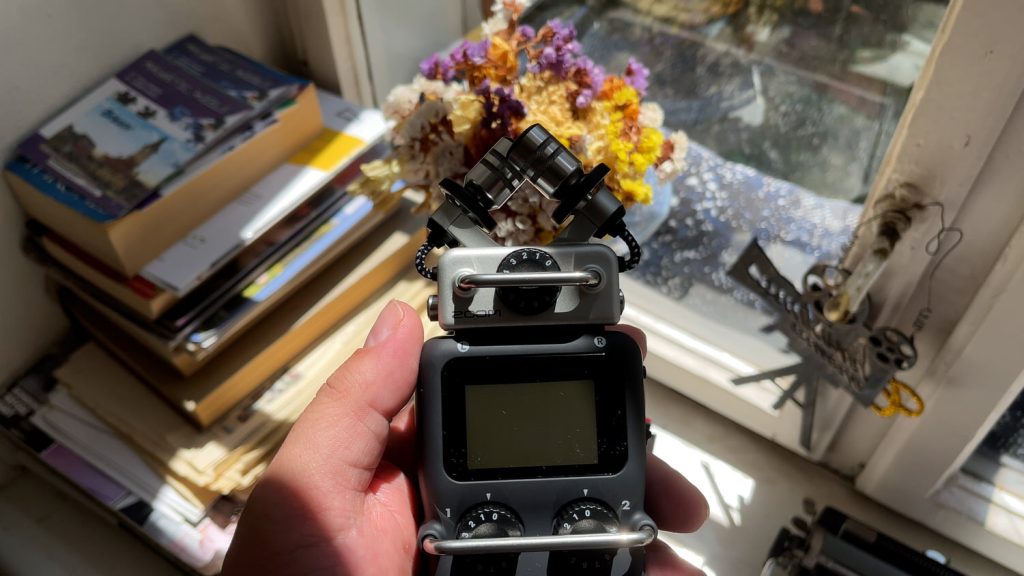 Display Screens
Both the Zoom H4n Pro and the lightweight H5 have backlit LCD screens situated at the top on the front of the recorders. These screens are easy to see when recording in low light conditions and when looking directly down at the screen.
The full-colour backlit LCD screen of the H6 is found lower down the recorder and angles down rather than lying flat.
One handy feature of all three recorders is that they can be attached to a DSLR camera. It means that when you're recording video on your camera, you can record quality audio whilst filming. This is where the screen position and angle makes a difference.
DSLR preamps tend not to be that great, so having a separate audio recorder can work wonders.
The location of the flat screens on the H4n Pro and H5 models make it difficult to watch both your recorder screen and the camera when you mount it on a tripod. On the other hand, it is much easier to view both the camera and recorder displays when using the H6 because of its screen's tilt and position closer to the camera display.
Battery Life
According to Zoom, the H6 gives you up to an exceptional 20 hours of recording time before you have to change the batteries. This charge would reduce depending on how you're using the device, the brand and age of the batteries, and more. It means that if you want to record continuously for an extended time, you don't need to worry about the batteries running down halfway through.
Bear in mind that the H6 needs four AA batteries whereas the smaller recorders only require two each. That means the 15 hours battery life promised for the H5 under regular use makes it a very efficient recorder too. However, the H4n Pro chews through the batteries, giving you only six hours of recording time with each set.
I would always advise you to carry plenty of spare batteries for whichever recorder you use. It is annoying to miss a chance simply because you've run out of battery power.
Storage
None of these Zoom recorders has internal storage. Instead, the recordings are stored on SD cards. The H5 and H4n Pro take cards with up to 32GB of storage whereas the H6 can accommodate an SD card which stores up to a massive 128GB of data.
As a quick side note, larger SD cards tend to slow down the start-up of the H4n Pro quite significantly. Formatting the card inside of the device itself seems to help reduce the waiting time, but this is important to know.
So, which Zoom recorder is right for you?
All three recorders are portable and rugged, providing you with excellent recording options for a range of uses.
That being said, your decision will rest on many factors. Some questions to ponder are:
What will you use your recorder for?
How much flexibility do you need?
How long will you be recording out in the field?
How many inputs will you need now, and in the future?
What is your budget for the purchase?
If you're operating on a tight budget and you can see that two inputs would be suitable for the foreseeable future, then the H4n Pro recorder may be the right recorder for you. You'll be able to plug in two mics as well as use the X/Y mics on top. SD cards gives you ample storage capacity, and it isn't hard to change 2AA batteries out in the field if necessary.
But, if you know that four or even six inputs would be invaluable for your recording needs, then you should look at stretching your budget. The Zoom H5 delivers a maximum of four XLR/TRS inputs as well as an X/Y capsule on top. Its battery life is more than double that of the H4n Pro, and it offers easier controls.
However, if you're looking for maximum features and a highly flexible, quality recorder, then consider the Zoom H6. Even though it's the priciest Zoom option in this line-up, this is still an affordable portable unit. It offers ample storage and quality audio recordings. You can add some extra elements such as an X/Y shock-mounted capsule or a highly directional shotgun microphone capsule which allows you to record focused sound effects without having to carry a separate microphone and grip with the recorder.
All in all, whatever your needs at the moment or recording goals in the future, Zoom can help you achieve your best results, whichever model you decide to choose.
Thank you for reading our comparison review of the Zoom H4n Pro, H5, and H6. I invite you to have a look at some of my other articles. We have something for everyone, whether you're interested in audio, or cameras and lenses. Alternatively, if you prefer video reviews, feel free to have a look at my YouTube channel.