So, you've been looking at the Zoom digital recorder catalogue for a while now, and you've decided to buy. Your wallet says to go with the budget H4n Pro model, but the Zoom H6 specs are looking rather tempting as well.
Perhaps you're planning to start a podcast, or maybe you want a portable device for recording on the go.
So you're wondering, "Does the H4n Pro give me all I need, or should I go the extra mile and buy the Zoom H6?"
In this article, we are going to explore the features of both of these portable digital recorders. We'll look at what they can and can't do to help you decide which is the one for you.
Input
Both the Zoom H6 and the H4n Pro have XLR inputs, as well as 3.5mm mini-jack inputs.
XLR inputs handle larger microphones, like the ones you'd use on a podcast, to record film dialogue, or sound effects, whereas the mini-jacks accept the smaller TS or TRS plugs. These are handy if you are using a lavalier mic to record dialogue.
That being said, the real difference lies in the numbers. The Zoom H6 not only has four built-in XLR inputs, but it also allows you to add an extra two by way of an optional modular "clip-on" capsule.
Simply put, this allows you to record two extra tracks, which can be a real bonus if you're recording a podcast or interviewing a panel. However, if you're sure that two microphones are enough, then the H4n Pro's two XLR inputs should suit you down to the ground.
As a quick side note, do bear in mind that the modular capsule that allows you to add two extra mics can not provide phantom power to the extra microphones. If you're using dynamic mics, then this is not an issue, but if you want to use condensers, this is a bit of info worth knowing.
If you're not sure whether you have a dynamic or condenser mic, you can always look up its specs, or look up whether it needs phantom power.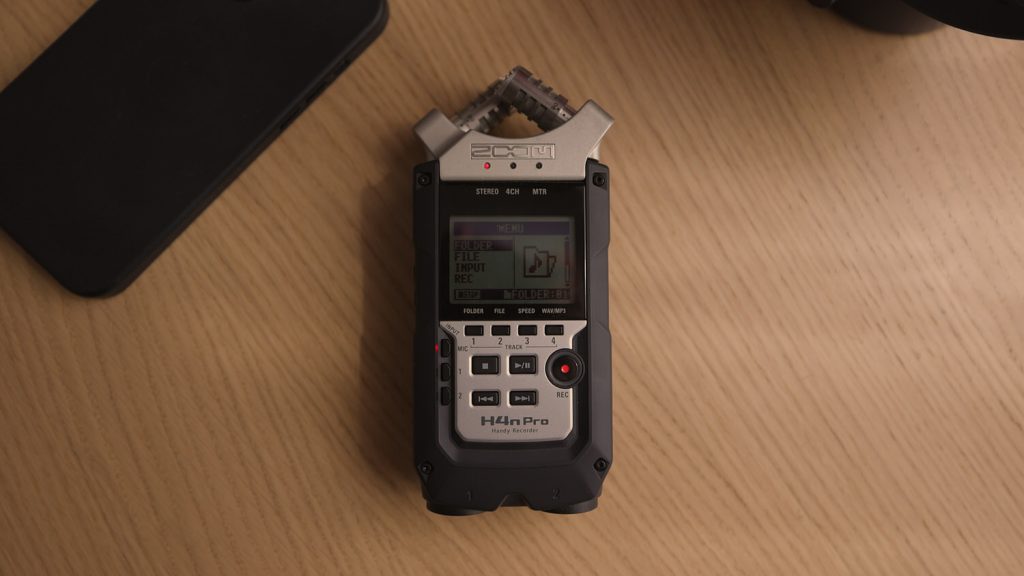 Size & Build
If lightweight but sturdy is your priority, the smaller H4n Pro comes in at 10.6 oz (280 grams) whereas the Zoom H6 is a heftier 14.46 oz (410 grams.)
Portability
Whichever size you prefer, both models are supremely portable and come with a handy plastic case. Bear in mind that the H4n Pro's case does not have any cushioning and doesn't seem to be waterproof. It's undoubtedly useful to protect the recorder from getting scuff marks or scratches in your bag though.
You can always buy a separate carrying pouch for it if you feel the need to.
Display
When it comes to displays, the H4n Pro has a 1.9 inch backlit LCD screen which is easy to read in low light. Its big brother, the Zoom H6, steps things up a notch with a tilted 2' full-colour LCD. The tilt advantage is evident if you mount the recorder on a camera because the screen is easier to see than the smaller flat screen of the H4n Pro.
Having said that, it would be even better if it had a swivel screen. The addition would make it so much easier to see the screen, as you would be able to adjust the tilt to suit.
Free Sound Effects
By the way, did you know I have compiled the largest list of free sound effects in the world? Over 500GB of sounds, ready to be downloaded, free of charge. Just figured you'd want to know. And now, back to the review.
Sound Quality
Naturally, sound quality in a recorder is vital, and it all depends on what you're planning to record.
Both record high-quality audio at up to 24bit/96kHz, which is definitely more than you need for a voice-over or dialogue. Additionally, there is no perceptible difference in the audio quality between the two recorders.
Pro tip: If you're recording outside, wind noise is definitely likely to be a factor. There's nothing worse than coming in after a day in the field and finding that half of your recordings are unusable. In this case, I'd recommend investing in a Rycote kit, including a windshield, shock mount, and grip.
Storage & Batteries
Neither Zoom recorder has internal storage. Instead, they record directly to SD cards, up to 32GB for the H4n Pro and a whopping 128GB in the case of the H6.
And it's in battery life that the H6 stands out as well. It takes four AA batteries compared to the H4n Pro's two, but they can last up to 20 hours (depending on the conditions.) It's not hard to pack some extra batteries just in case, but you'll have to be recording a long time to need them. You will probably require extra batteries for the H4n Pro though because it tends to chew through them in under six hours.
As a quick side note, larger SD cards seem to increase the start-up time of the Zoom H4n Pro. Formatting the card inside the device itself seems to help with the waiting time, but I figured you might want to know this.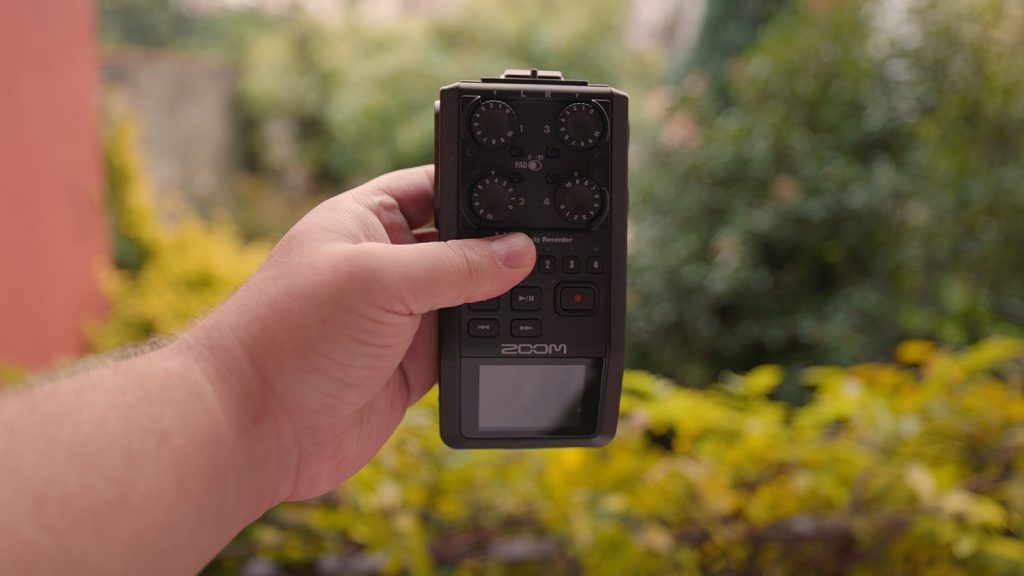 Versatility
Not only can the H4n Pro be used as a field recorder, but you can also use it as an audio interface for your computer or laptop via a USB cable.
But those extra inputs on the H6 contribute greatly to its versatility. Whether you're podcasting in the studio, recording a band or recording outside, there are enough inputs to go round on the H6.
Modularity
What I really love about the H6 is the variety of clip-on capsules you can add to increase its versatility.
To start with, it comes with an X/Y capsule featuring two unidirectional microphones and an MS — or mid-side — capsule as standard. But you can purchase extra capsules such as a shotgun capsule to cleanly record vocals when the speaker can't get close up to a standard mic, or to record sound effects up-close.
Changing the capsules is simplicity itself, and once the new clip-on is in place, the recorder instantly adapts to the new capsule.
Edit: The new black edition of the Zoom H6 does not seem to come with an MS capsule, just the X/Y. This is not a huge deal for most people, but it's worth noting.
Which Is The Zoom For You?
Both recorders are rugged, sturdy and versatile. They each have XLR inputs and run on AA batteries. Each one can give you great service and sound quality.
If you're purchasing your first recorder and cost is a significant factor, think about whether you'll need more than two microphones in a recording session. If you're sure that two is enough, then the H4n Pro would probably suit you down to the ground.
That being said, if you are likely to be heading outside to record or have a variety of different recording sessions in mind, then it could be worth your while to increase your budget and buy the Zoom H6.
If you're not sure if you'll need extra inputs in the future, you can always buy the cheaper one, and then sell it off when you want to upgrade. Whilst I can't guarantee it, these devices tend to hold their value rather well.
Thank you very much for reading my review of the Zoom H4n Pro vs the Zoom H6. I invite you to have a look at some of my other articles. We have something for everyone, whether you're interested in audio, or cameras and lenses. Alternatively, if you prefer video reviews, feel free to have a look at my YouTube channel.